What is Electronic Configuration?
Electronic configuration or electronic structure or electron configuration is the arrangement of electrons in orbitals around an atomic nucleus. It is a symbolic notation by which the electrons of its atoms are distributed over different atomic orbitals.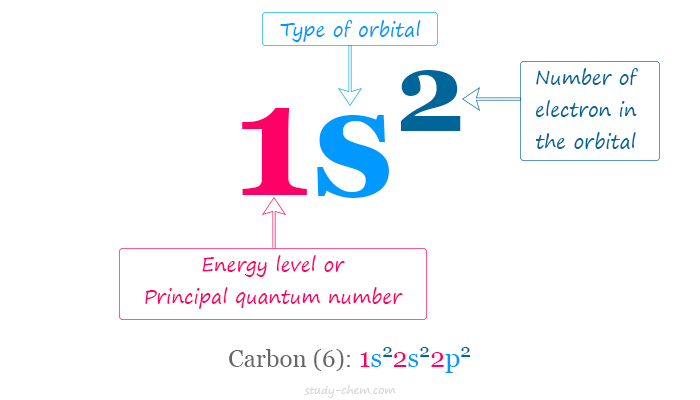 Electronic configurations of atoms follow a standard notation in which all electron-containing atomic subshells are placed in a sequence. The number of electrons held in each orbital is written in superscript. For example, the electron configuration of magnesium (atomic number 12) is 1s22s22p63s2.
Rules for Writing Electron Configuration
Electronic configuration or electron configuration of orbitals takes place according to the following rules.
The maximum number of electrons in the main quantum shell = 2n2, where n = principal quantum number.
Principal quantum number or shell divided into sub-shell s, p, d, f, etc.
The maximum number of electrons in a subshell = 2(2l +1), where l = 0, 1, 2, 3 for s, p, d, and f orbitals respectively.
Aufbau building up principle provides the electron filling up process. Hence according to this principle, the orbitals are filled up in the order of increasing energy. Therefore, orbitals with the lowest energy filled up first while the highest energy orbital filled up in the end.
Energy Level Diagram
It is difficult for the students to remember the orbital energy level diagram according to the increasing energy level. But a trivial and more convenient diagram was replaced by it for easy to remember.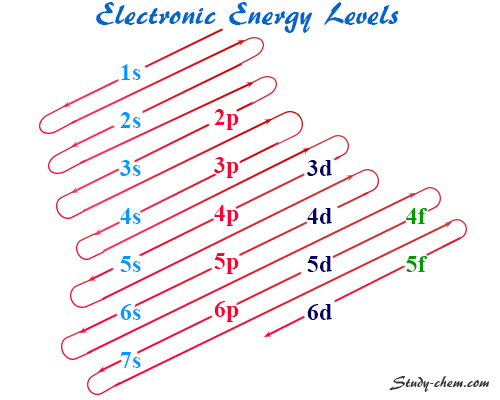 Therefore, the energy levels of orbitals according to this diagram, 1s < 2s < 2p < 3s < 3p < 4s < 3d < 4p < 5s < 4d < 5p < 6s < 4f < 5d < 6p < 7s < 5f…
Electronic Configuration of s-block Elements
s-block elements consist of one electron or two electrons in the s-orbital of the outer quantum shell. Since the common feature generates similar chemical properties among the s-block elements. Therefore, the general electronic configuration of s-block elements is ns1→2.
1s-block Chemical Elements
Hydrogen, lithium, sodium, potassium, rubidium, and francium belongs to 1s-block elements in the periodic table with the general electronic configuration of valence electron = ns1.
| | | |
| --- | --- | --- |
| Atomic Number | Chemical Elements | Electron Configuration |
| 1 | Hydrogen (H) | 1s1 |
| 3 | Lithium (Li) | 1s2 2s1 |
| 11 | Sodium (Na) | [Ne] 3s1 |
| 19 | Potassium (K) | [Ar] 4s1 |
| 37 | Rubidium (Rb) | [Kr] 5s1 |
| 55 | Cesium (Cs) | [Xe] 6s1 |
| 87 | Francium (Fr) | [Rn] 7s1 |
2s-block Chemical Elements
Beryllium, magnesium, calcium, strontium, barium, and radium belongs to 1s-block elements in the periodic table with a general electronic configuration of valence electron = ns2.
| | | |
| --- | --- | --- |
| Atomic Number | Chemical Elements | Electronic Configuration |
| 4 | Beryllium (Be) | 1s2 2s1 |
| 12 | Magnesium (Mg) | 1s2 2s2 |
| 20 | Calcium (Ca) | [Ne] 3s1 |
| 38 | Strontium (Sr) | [Ar] 4s1 |
| 56 | Barium (Br) | [Kr] 5s1 |
| 88 | Radium (Ra) | [Xe] 6s1 |